Metal Roofing Supplier in Anchorage, AK

Quality components are the secret to a lasting, quality roof or siding installation. No one understands this better than Superior Products, Inc., which is why we have been the premier provider of steel components to Alaska and all of the Lower 48 States since 1984! Come to us for panels, trim, fasteners, snow retention products, Tenryu blades, and other accessories!
Your Experts for Corrugated Roofing & Siding Products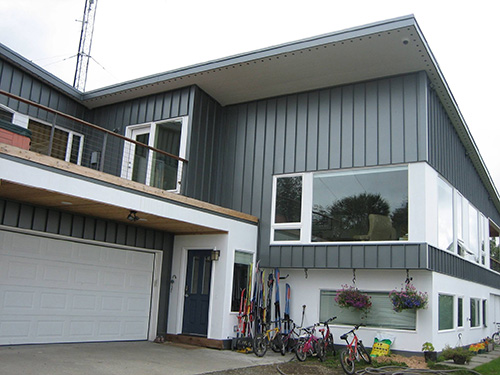 If you're seeking a trued, reliable, quality source for corrugated roofing and siding products, our name says it all: Superior Products, Inc. is the premier provider of components for steel siding and residential steel roofing in Alaska and beyond! We have decades of installation experience and strive to provide a level of service that is second to none. Our product offerings include concealed or exposed fastener systems, metal insulated roof and wall panels, metal soffits, fascia panels and full wrap flashes, snow control products, and much more!
As the number one metal roofing supplier in Anchorage and Alyeska, AK, we complement our unparalleled products with a degree of customer service and satisfaction that's unmatched anywhere else. We work with you to determine exactly what you need and can offer recommendations and advice about the best fitting products for your unique project. We can even recommend installers if needed, to ensure you're getting the most out of our products. Take a look at why residential and commercial customers continue to laud us for our excellence in both products and services:
We're an Alaskan-Native owned business.
Our team is extremely service-driven and customer-oriented.
We offer an unparalleled degree of service and experience.
We specialize in corrugated roofing and siding.
Our team of metal roofing suppliers has over 20 years of installation and field experience!
Superior Products, Inc. is also a supplier of Superior Logs. (cabins, homes, commercial)
Professional excellence
More than just providing you with top-caliber products and components for your commercial metal roofing and metal siding, we're also rooted in excellence as a business. Some of the proud accolades we have to showcase include:
We're an A+ Rated Better Business Bureau company.
We're a Made in Alaska Program member (Alaska owned and operated).
We're affiliated with the Associated General Contractors of America and the Anchorage Home Builders Associations.
Need Roof or Siding Components?
If you're looking for high-grade corrugated roofing or siding components for your residential or commercial building, get in touch with us today! Our metal roofing suppliers are happy to provide estimates to all interested customers.
Areas Served
Proudly offering roofing and siding to the following areas:
Anchorage, AK
Fairbanks, AK
Wasilla, AK
Juneau, AK
Alaska Bush Communities
Lower 48 States