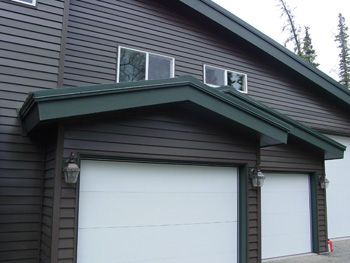 To protect your home from the elements and give yourself complete peace of mind about its resilience in the face of abuse, trust residential metal siding in Alaska. Metal siding stands up to wind, rain, snow and sun better than vinyl and other siding products, giving you more out of your investment and a home exterior that remains beautiful and maintenance free.
Superior Products, Inc. is pleased to be your premier supplier of residential steel siding in Anchorage and Alyeska, AK. We supply a bevy of products that are designed to be sustainable, reliable and high-quality. Moreover, with over 20 years of install experience we provide our customers with an unparalleled level of service allowing for appropriate products selections and install insight:
We offer locally-produced 26- and 29-gauge horizontal and vertical siding products;
We have 22- and 24-gauge products available with extended lead times;
We offer concealed and surface fastened panels;
We offer all standard and custom trim and flat sheet products;
We provide detailed takeoffs, trim designs, and materials lists to assist contractors and self-installers.
Superb warranties
A warranty says a lot about the product being offered. At Superior Products, Inc., we have complete faith in all of the products we supply, which is why we work with manufacturers that offer some of the best panel finish warranties in the industry! 25-year to limited lifetime panel finish warranties available on all residential roofing and siding products.
Superior product selection
Superior Products, Inc. specializes in steel roofing and siding, which gives us a unique ability to provide timely, accurate material takeoffs and shorter lead times on supplies.  We work with and can refer selected specialty steel contractors who will provide free estimates if needed.
For more information about our abilities or to inquire about a specific type or style of residential steel siding in Alaska, contact us at [email protected] or give us a call today at 907-345-3323.
---