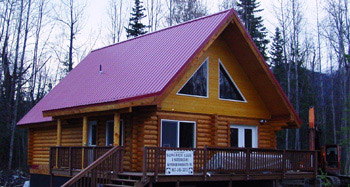 There's no better value in roofing than the sustainability and reliability that residential metal roofing in Alaska offers. With a lifespan that outlasts all other materials and a degree of quality that can be counted on in any conditions, residential metal roofing is rapidly becoming the number one choice for roofing by homeowners.  Not only can it help with fire protection, but it can increase the value of your home overall.
At Superior Products, Inc. we pride ourselves on providing excellent service.  We can assist with full takeoffs, detailed layouts for metal roof panels, custom trim design, installation advice, and can ensure that you achieve an accurate and painless installation.
Why choose us for residential steel roofing in Anchorage or Alyeska, AK? Our service is unparalleled and our penchant for excellence provides our customers an experience that is head and shoulders above the competition. Just take a look at some of our capabilities:
We provide accurate and detailed takeoffs and material lists.
We offer locally-produced 26- and 29-gauge products;
24-gauge residential and light commercial products available with extended lead times;
We offer concealed and surface fastened metal roof panels;
We offer all standard and custom trim and flat sheet products;
We work with several manufacturers in Alaska and the lower 48 states to give our customers everything they need for a full roofing install! Our core products include:
Concealed or exposed fasteners (standing seam, seamed, curved, lapped);
Fascia panels and full wrap flashes;
Metal Soffits (vented, lanced or non-vented);
Metal insulated roof and wall panels.
Snow Retention Products (Snow Brakes, Snojax, Bar and Rail Type Clamp on Snow Guards)
Turn to us if you need help with snow retention and we can work with you to find the products that you need to prevent snow from sliding off your roof and blocking doorways and garage doors.
We work with and can refer selected specialty steel contractors who will provide free estimates if needed.
For more information about our products or services as it applies to residential steel roofing in Alaska, contact us today by emailing [email protected] or calling 907-345-3323.
Superb warranties
A warranty says a lot about the product being offered. At Superior Products, Inc., we have complete faith in all of the products we supply, which is why we work with manufacturers that offer some of the best finish warranties for metal roof panels in the industry! 25-year to limited lifetime panel finish warranties available on all residential metal roofing and steel siding products.
---